For a while, there was growing hope that weather modification in the form of cloud seeding could provide more water for the Edwards Aquifer and also potentially reduce agricultural demand. In 2003, scientists at the National Academy of Sciences concluded there is no scientific evidence that it works (12). The American Meteorological Society's official position is that there has been some statistical evidence showing a 10 percent increase in precipitation after cloud-seeding, but no conclusive cause and effect.
Several programs in Texas resulted in what was concluded to be increased rainfall. The oldest program was started in 1971 by the Colorado River Municipal Water District. Their target area has been about 3,600 square miles in the upper Colorado River basin upstream from Spence Reservoir. The long-term results report a 34% increase above normal historic precipitation in the seeded areas (Jones, 1988, 1997). In 1986 the Southwest Cooperative Program (SWCP) was started as a cooperative effort between Oklahoma and Texas to randomly seed clouds over 5,000 square miles between Midland-Odessa and Lubbock. From 1986 to 1994, 93 seedings were performed and rainfall was compared with 90 non-seeded storm cells. The results indicated increased rainfall. Compared to the non-seeded cells, the seeded clouds increased in height by 7%, rainfall coverage increased by 43%, duration of storms increased 36%, and volume of rain increased 130% (Rosenfeld and Woodley, 1993).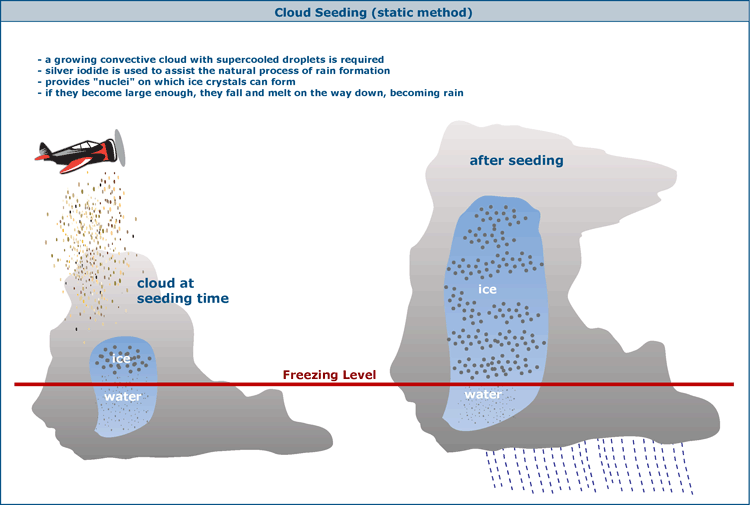 Cloud seeding got its start in 1946 when Dr. Vincent J. Schaefer, working at the General Electric Laboratory in New York, was involved with research to create artificial clouds in a chilled chamber. During one experiment, Schaefer thought the chamber was too warm and placed dry ice inside to cool it. Water vapor in the chamber formed a cloud around the dry ice. The ice crystals in the dry ice had provided a nucleus around which droplets of water could form inside the chamber. Natural rainfall works much the same way. Ice crystals are formed when cold water contacts particles of dust, salt, or sand. The ice crystals provide a nucleus around which water droplets can attach, increasing the size of the droplet. When the droplet becomes large enough, it falls as rain. This is the "cold rain" process, also called the "static method". Cloud seeding is thought to increase the number of these nuclei available to take greater advantage of the moisture in the cloud and form raindrops that otherwise would not have formed. Another process, the "warm rain" process, usually involves clouds in tropical regions that never reach the freezing point. In these clouds, raindrops form around a "hygroscopic nuclei", a particle that attracts water such as salt or dust. Small droplets collide and coalesce until they form a drop large enough to fall. To encourage the "warm rain" process, calcium chloride is usually used to provide the nucleus for raindrop formation. For the "cold rain" process, silver iodide can be used as a nuclei because its structure is very similar to ice crystals.
In 1984, in the midst of a lingering drought, the Edwards Underground Water District approved a $400,000 contract with North American Weather Consultants to initiate a cloud seeding effort in the Edwards region. The program drew immediate and vocal criticism. Local meteorologist Gary Grice, a National Weather Service forecaster, said the district would be wasting its money (1). In the end, the planes that would drop silver iodide never got off the ground and the program was shelved.
Article at left is from the San Antonio Express-News, September 12, 1984. At right is an editorial from the San Antonio Light on September 15, 1984.
In 1996, George Bomar, meteorologist for the Texas Natural Resources Conservation Commission, and State Senator Jeff Wentworth visited a number of South Texas government agencies and encouraged them to consider cloud seeding programs as a component of long term water management strategies (2). Bomar indicated state studies suggest cloud-seeding can increase the amount of rain by as much as 2.5 times.
After the 1996 visits by Bomar and Wentworth (3), several agencies moved quickly to form the South Texas Weather Modification Association and initiate cloud seeding in May 1997 (4). The Evergreen Underground Water District and the counties of Wilson, Karnes, Frio, Atascosa, McMullen, Live Oak, and Bee agreed to share the cost of a three-year program. While there are disputes about whether or not cloud-seeding actually works, one thing for certain is it's not cheap. In San Angelo it cost $411,000 to seed above 7.2 million acres. The effort spearheaded by the Evergeeen District cost $282,000 per year. The first mission was flown along the Wilson-Atascosa county line on May 16, 1997, the same day the TNRCC granted the license to operate. Within hours, a large area received 1-4 inches of rainfall, but the National Weather Service said it would be very difficult to determine if the cloud-seeding caused it because a lot of heavy activity was expected anyway.
In 1998 the Edwards Aquifer Authority set aside $500,000 for cloud-seeding and in July asked Governor George W. Bush to suspend the regulations requiring a state permit to conduct cloud seeding so they could begin a program immediately (5). The permit was tied up by protests of people living along creeks who feared that flooding would result; but it was eventually issued in October 1998 (5). The Authority gave assurances that no cloud-seeding would be conducted if severe storm warnings were issued, if storm clouds moved slowly and posed a flooding threat, or if storms continued to track over the same area. In January 1999 the Authority's board approved a four year contract to conduct cloud seeding (7). The first scheduled effort on April 15, 1999 was canceled because there were no clouds (8).
In June 2001, after several years of cloud-seeding efforts (9, 10), the Edwards Aquifer Authority board approved a study to determine if the amount of rain produced can be quantified (11). EAA General Manager Greg Ellis said "Here, we have a very unique situation with our rain gauges, our stream flow measures and our aquifer measures to actually determine as that rain is falling how much of that is benefitting the region, how much is actually getting to the ground and into the aquifer."
In 2004, in light of the findings of the National Academy of Science (12), the EAA considered eliminating funding for cloud-seeding, but eventually included $153,520 in their 2005 budget for cloud-seeding flights and an independent evaluation of previous efforts (13).
In 2007, the EAA approved cloud seeding efforts for the ninth year in a row, and for the first time the program included a method to statistically evaluate the project's effectiveness. Four Board members voted against continuing the program, saying their was evidence that cloud seeding could actually decrease rainfall by accident, and they also had concerns about the EAA paying for scientific studies to investigate something the National Academy had already concluded doesn't work (14).
In January of 2012, Dr. Roelof Bruintjes from the National Center for Atmospheric Research made a presentation to the EAA in hopes of building support for a research project to further investigate the effectiveness of cloud seeding. Dr. Bruintjes contended that new radar and satellite technologies and new airborne instruments could be used to quantify the effects of cloud seeding techniques. The EAA declined to fund the study, but continued to fund its own precipitation enhancement efforts with $150,000 in its 2013 Operating Budget.
The latest version of the Texas State Water Plan issued in 2012 estimates that by 2060, weather modification could account for only 0.2% of the State's water needs (15).

(1) "Cloud seeding may be all wet" San Antonio Light, August 16, 1984.
(2) "Council eyes cloud seeding" San Antonio Express-News, August 16, 1996.
(3) "S.A. lawmaker urges cloud-seeding option" San Antonio Express-News, October 2, 1996.
(4) "Storms follow cloud seeding" San Antonio Express-News, May 21, 1997.
(5) "Board pushes cloud seeding" San Antonio Express-News, July 28, 1998.
(6) "Aquifer authority wins cloud seeding permit from TNRCC" San Antonio Express-News, October 23, 1998.
(7) "EAA to consider cloud-seeding deal" San Antonio Express-News, January 1, 1999.
(8) "Cloud-seeding canceled on account of no clouds" San Antonio Express-News, April 16, 1999.
(9) "Cloud seeding efforts take off in South Texas" San Antonio Express-News, May 4, 1999.
(10) "Cloud seeding may get early start today" San Antonio Express-News, March 2, 2000.
(11) "EAA OKs study of cloud seeding" San Antonio Express-News, June 19, 2001.
(12) "Cloud-seeding gets a failing grade" San Antonio Express-News, October 20, 2003.
(13) "Aquifer authority boosts fee" San Antonio Express-News, November 10, 2004.
(14) "Cloud seeding concerns some panelists" San Antonio Express-News, April 11, 2007.
(15) "Water for Texas: Summary of the 2011 Regional Water Plans." Prepared by the TWDB for the 82nd Legislative Session.